Access to the many facets that promote neuro-recovery
Adam Lavender helps us understand the complexities in his life and journey towards neuro-recovery after sustaining a high cervical spinal cord injury four years ago.
Perhaps the greatest challenge facing the devotee of one's own neurological recovery is access. That is…
access to the information that is fundamental to our daily survival; and often
access to the daily assistance of others to meet our most basic of needs;
access to basic transportation in our community;
access to Healthcare Services, and durable medical equipment that help us keep our heads above water;
access to clean water and food sources to avoid chronic deficiencies in our bodies that perpetuate our struggles to heal; and
access to love and support from those who relate and those who care about us, that we may be inspired to press on despite the gravity of the trials and tribulations that lie ahead.
And if we are ever-so-lucky to have access to all these things? Then…
access to therapists, therapies, and technologies that allow us to truly thrive and begin to recover our access to otherwise impaired body function, and access to a fruitful and joyful quality of life — are unfortunately not available to the majority of us. Yet.
For those of us that are fortunate enough to have access to leading recovery technologies and therapies, we carry a torch for those who lack access, and for those whose life-altering circumstances have yet to occur. There naturally comes a sense of responsibility to those who are unable to explore their potential recovery due to lack of access.
Fortunately, there are many compassionate souls out there working on our behalf, and the evolution of neurology continues to advance. As it advances, it is offered to us often through charity based organizations and special individuals who, at their own expense, reach beyond their own personal circumstances and champion the cause for us all. The Bridging Bionics Foundation is one such organization, and our local affiliate continues to provide access to recovery opportunities for those in need. It's establishment, fundraising, and administration has been shouldered by one such champion, Amanda Boxtel, between her many contributions both locally and to the neuro-recovery community as a whole. Another advocate and supporter is Kelly Hayes and his Race2Walk2016 campaign to raise awareness and funds by traveling the world over in a unique decathlon challenge involving track running events at the respective venues in which each world record was once set.
With all this in consideration: It is both, for me, an honor and quite humbling to be a participant in, and an ambassador for, the Bridging Bionics Foundation.
As a participant for the last 10 months, access to our local program has allowed me to magnify and transform my recovery from maintenance and small incremental improvements, to large leaps in strength and neuro-recovery that I was originally given no hope to attain in my prognosis as a C4 incomplete spinal cord injury. Now I find myself looking forward to the ski season and taking my first mountain bike rides in the mountains again next summer.
As an ambassador for Bridging Bionics, I look forward to helping broaden access for those in need, and to carry the torch for those who aspire to take command of their own recovery, and for those whose imminent recovery has yet to begin.
And hopefully, one fine day, we will find the opportunity to fully access and enjoy the privileges of the able-bodied.
By Adam Lavender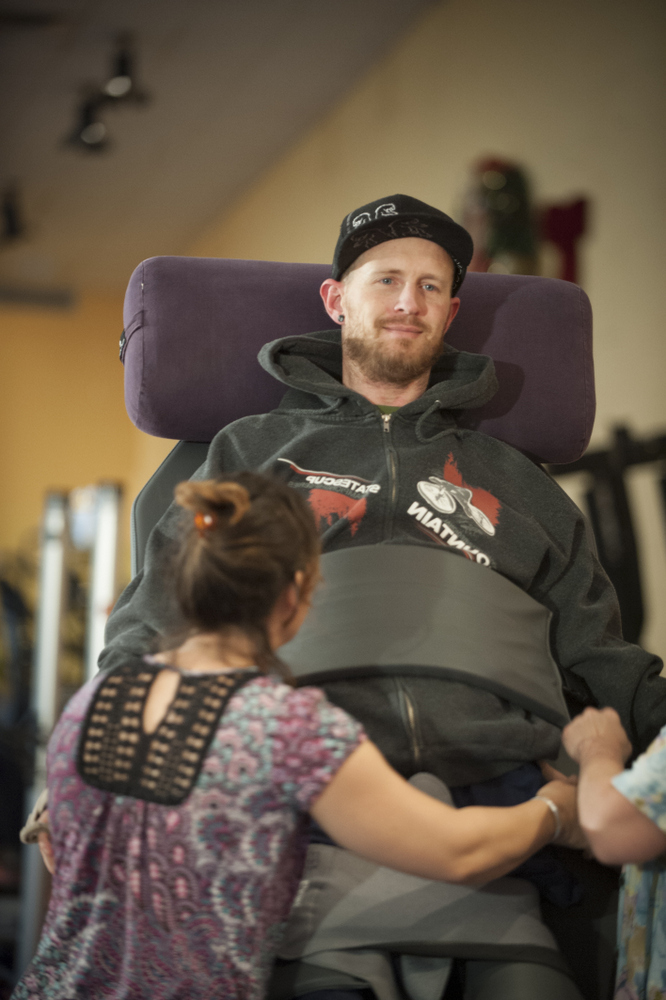 The psychological and emotional intensity of standing tall and walking again after years of paralysis is hard to describe. But there are those of us who fall outside of the design parameters for the exoskeleton.
The crown jewel in the world of spinal cord injury recovery is, undoubtedly, the ability to walk again. Aside from our short-term functional goals, regaining the ability to walk is an ever-present end goal.
Walking is also the most relatable goal of the able-bodied. While most able-bodied people aren't aware of the many complications accompanying spinal cord injuries, the inability to walk is something they can relate with immediately.
So within our local Bridging Bionics program, Able Bionics USA, walking in the exoskeleton steals the show when it comes time to interact with the public and raise awareness and fundraising dollars. And rightfully so; seeing someone who is paralyzed walk in the exoskeleton is very moving, and only outdone by the experience of the person in the suit itself.
The psychological and emotional intensity of standing tall and walking again after years of paralysis is hard to describe. But there are those of us who fall outside of the design parameters for the exoskeleton.
As a C4 incomplete spinal cord injury, I was very fortunate to walk in the exoskeleton three different times earlier this year. It was a wonderful experience, but it took four people to facilitate and was fairly hard on the robot's motors at the time.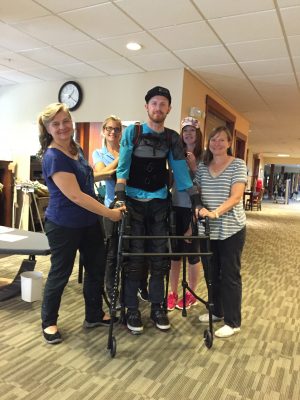 Adam walked in the exoskeleton, however his physical therapists determined that he needed to gain more strength in his triceps and core to be able to sustain walking upright, push down with his arms, weight shift, and to lessen the load on the motors of the exoskeleton. Even though Adam is an incomplete SCI, he was pushing the boundaries to meet the inclusion criteria for the technology. Adam is working hard to meet the goals set by his PT's through strengthening his trunk and upper extremities.
It became clear that I would need to overcome several strength and neuro-recovery barriers in order to properly use the exoskeleton and start using it on a regular basis. Fortunately, the exoskeleton isn't the only bit of amazing technology to which locals from the Roaring Fork Valley have access. Indeed, were it not for this other technology, the Galileo Neuromuscular Training Systems, I would have never made it into the exoskeleton to begin with.
When you sit in a chair all day long, it is quite easy for your body to eventually assume the position of a chair, such that your legs will no longer straighten. The more time goes by, the deeper the muscle shortening and joint contractures become. Massage, acupuncture, stretching, splinting, and other techniques help relieve this but not significantly or in a timely manner. Then came the Galileo tilt table from Stim Designs.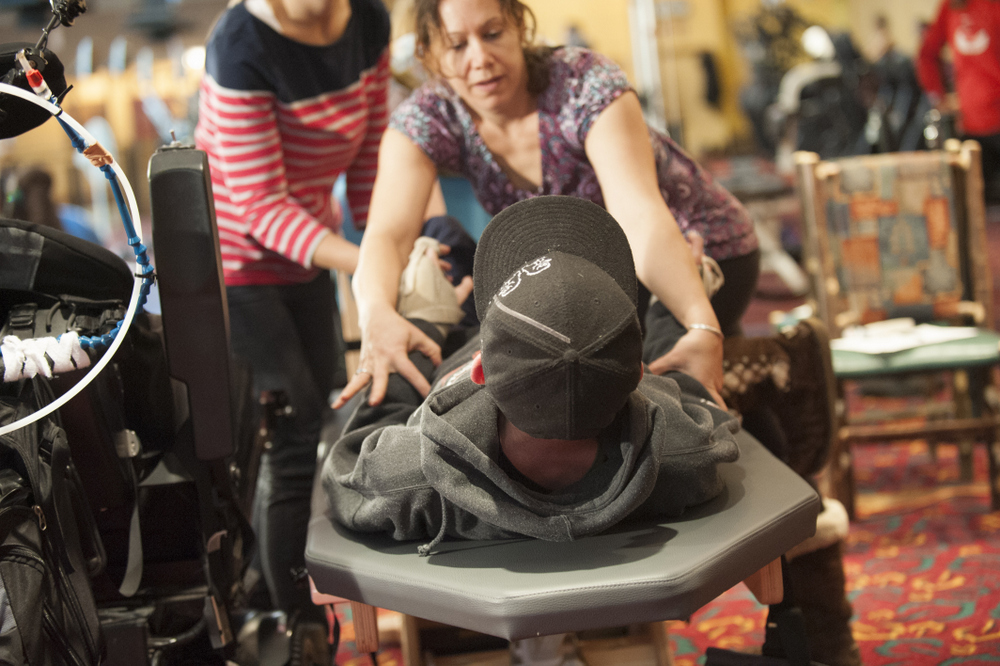 Adam is assisted by his wife, Tanell while using the Galileo Neuromuscular Tilt Table from Stim Designs.
The Galileo tilt table is an amazing piece of technology that translates side-alternating vibrations through the body to stimulate many different functions and healing modalities. While secured to the table and tilting up until standing on an alternating vibration plate, set to 25Hz, the user experiences the same input and extensor muscle contractions as 4,500 footsteps, in a 3-minute session. Aside from very many secondary benefits, it is remarkable how much muscle activation and fatigue is created throughout the legs and trunk. Also remarkable, is how quickly it reduces knee, ankle, and hip contractures — ultimately allowing someone to shoehorn themselves into the exoskeleton. And if walking in an exoskeleton was not a goal at all, there are still many uses and benefits to enjoy from using the Galileo tilt table. I will elaborate on these more in the future.
Once the joint contractures are relaxed by virtue of the Galileo tilt table, it is the function of the upper body which determines how well someone performs in an exoskeleton. On paper, to properly use the exoskeleton, one must be a C7 spinal cord injury or lower. That leaves very many of us (cervical spinal cord injuries with emerging function) without a therapeutic segue to such a level of function and strength in the upper body. Then came the Galileo Smart Dumbbell.
I started using the Galileo smart dumbbell around the same time I tried out the exoskeleton with 4 people's assistance. That was a little over 6 months ago. I've had a leap in upper body strength and even neuromuscular return every single week since I began using it. When I began using the dumbbell, my upper body was mostly like a C5 with the exception of some C4 shoulder issues, no wrist mobility, but some trunk return. I also have one arm far ahead of the other so use of the dumbbell is partly focused on getting the right side up to speed with the left.
Since beginning my workouts with the Galileo dumbbell, I have seen neuro return in my triceps, my pecs, my lats, my lower scapular muscles, several shoulder muscles, my middle delts; and I've seen a huge boost in strength in all of these, and in those that were already gaining strength. I have improved so much and so quickly while using the dumbbell that I catch myself sometimes taking it for granted. When aspiring to overcome your spinal cord injury, any recovery modality that you find, which offers a long run of improvement without a plateau, is quite a Godsend. The ability for this device to awaken a quad's upper body is nothing short of remarkable. I look forward to reporting back with more details of my progress with the Galileo dumbbell, the Galileo tilt table, and my inevitable return to the exoskeleton!
The Galileo technologies, seemingly, offer the best form of muscle activation for the paralyzed body and offer the most exercise, neuro-recovery, and health boosting qualities of any modalities available.
While we all enjoy, benefit from, and aspire to walk again, it is technology like that of the Galileo's of Stim Designs that will help some of us make the leap into the realm of the exoskeleton, and invariably improve the health and quality of life of anyone who uses them.
By Adam Lavender
Video taken for Adam Lavender on October 26, 2016 demonstrating his core strength, stability and renewed power in his arms. Wow!
Join Our Mailing List for Updates!
By submitting this form, you are granting: Bridging Bionics Foundation, PO Box 3766, Basalt, Colorado, 81621, United States, www.bridgingbionics.org permission to email you. You may unsubscribe via the link found at the bottom of every email. (See our Email Privacy Policy for details.) Emails are serviced by Constant Contact. Email addresses will not be shared outside of Bridging Bionics Foundation.